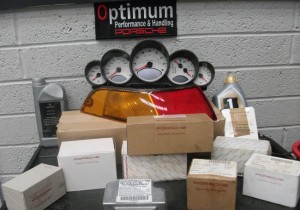 Porsche Parts Warranty
Every Porsche Genuine Part fitted to your Porsche makes sure it remains as it came from the Factory – Genuine. The quality of these parts is guaranteed and as such every part comes with a 2 year Parts Warranty.
Genuine Parts
At Optimum Performance and Handling, we can guarantee the best genuine parts direct from Porsche delivered to us within 24 hours.
Parts List
We have published the following parts lists on our website which you can access by clicking on any of the links below:
Porsche 911 3.2  CARRERA Parts/Price List
Porsche 944 S2 1998-91 and Porsche 968 1992-95 models Parts/Price List
Porsche 964 C2/C4 and Turbo Models Parts/Price List
Porsche 993/ 993 Turbo Parts/Price List
Porsche 996/997  1998-2008  ( not including Turbo Models) Parts/Price List
Porsche Boxster 986/987 1997-2008 Parts/Price List
Porsche Cayenne 2003-2006 Parts/Price List